You deserve a bathroom that's comfortable and appealing. There's nothing like stepping into a modernized bathroom that's clean, well-designed and updated with the latest amenities. If your bathroom falls short of this benchmark, call Mr. Construction. We're happy to discuss bathroom renovations in San Diego, CA with you, so you can experience the benefits of a new bathroom every day.
Our approach to bathroom remodeling is simple. We help you make the most of limited space, using quality materials and thoughtful design to create an atmosphere that's welcoming and comfortable. Some of the elements we pay close attention to include: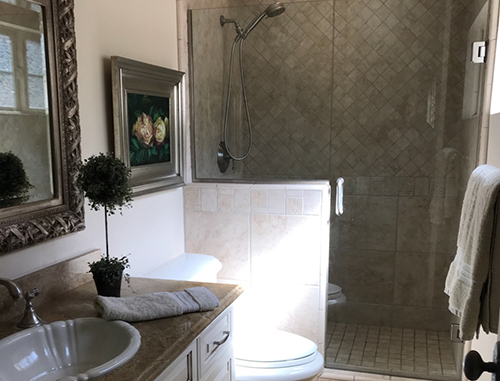 Tub and shower:
If you have a tub and want a shower, let us handle the conversion. Or, if you prefer a tub, look to our team to create an atmosphere that makes for the perfect soaking experience. We handle everything from shower tiling to glass doors and even handicap feature installations.
Flooring:
We'll waterproof your floor and overlay the very best materials, including tile, linoleum and laminate flooring. Rest assured your flooring will look great and hold up to the bathroom environment. Everything will be perfect, right down to the grouting.
Countertops:
Counter space in bathrooms is precious. We'll help you maximize and make the most of it. Consult with us about your budget to get an idea of what materials make the most sense—from natural stone to an affordable composite option.
Vanities and lighting:
Being able to see yourself clearly is a major prerequisite ford daily grooming. We'll create a lighting and vanity solution that gives you a complete, clear picture of yourself, so you can get ready each day with confidence.
Fixtures:
Our bathroom remodelers in San Diego and La Mesa, CA pay close attention to the details during every remodel. From toilets and sinks, right down to the shower knobs and lighting fixtures, we make sure it all lends itself to a singular theme. The goal of your bathroom remodel is to refresh the space—we make sure the details do it justice.
If you're ready to refresh your bathroom and turn it into a space you enjoy using each and every day, contact Mr. Construction today. We're the authority on bathroom remodeling, ready to work with your budget and vision to create something exceptional. Contact us today at 619-255-6260 to get started.